Super Moderator
Staff member
Joined

May 11, 2016
Posts

1,213
Hey guys!
I didn't found any thread that matched this one. If it does I'm sorry!
Basically this thread is to discuss what we have already seen on eurovision 2017. Semi finals, hosts, stage... all in to one!
To me Ukraine is being a good host. However no one can host a eurovision song contest as good as the swedes. It's true! 2013 and 2016 were by far the best eurovision shows we have seen. From hosting, to graphics, show, etc.
This year the stage looks very impressive on screen and I think the camerawork is good. I just wish the audience had colored bracelets that would change depending on the mood of the song. It really adds a nice touch and I miss it very much!
The host are doing an ok job I guess. But they aren't very spontaneous and you can clearly see the whole thing has been practiced over and over.And the guy at the green room? Is he actually speaking english? It might be ukranian for all that matters because I can hardly understand what he is saying. But hey, succeeding Petra is never easy!
The postcards are... oh well... awful. Since each country was responsible for theire own we see huge diference between them. And I'm not talking about creative ideas, I'm talking about lighting, video editing, etc. For example,
was great but
was pretty bad.
The graphics??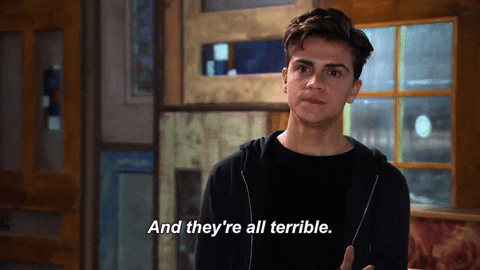 Opening act:
I actually liked this song more than most of the entries we had last night. Can we have him for Ukraine next year? Pleeeeease??
The Verka Serduchka segment was pretty funny! Thumbs up!
About the qualifiers:
Can't believe
is out and
is in!!
was very good and the only reason I see it missing the final it's because of the jury just like
in 2013.
And speaking of Montenegro... that was dreadful! I felt I was in the worst gay bar in town!!
And no matter who qualifies tomorrow I bet Moldova will be opening the show!